The 2009- 2010 College Bowl Season is set to begin on December 19th with the New Mexico Bo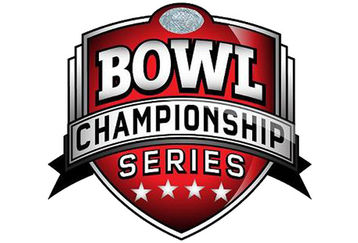 wl (Fresno St. vs. Wyoming) and the St. Petersburg Bowl (UCF vs. Rutgers).
There are several games that should be incredible to watch, most notably Oregon vs. Ohio St. in the Rose Bowl, Florida vs. Cincinnati in the Sugar Bowl, TCU vs. Boise St. in the Fiesta Bowl, Stanford vs. Oklahoma in the Sun Bowl and of-course the BCS Championship. This year, the BCS championship will feature Heisman Trophy winner, Mark Ingram, and the Alabama Crimson Tide vs. the Texas Longhorns.
The BCS might not be the most popular system (who wouldn't love to see Florida have a chance at revenge against Alabama or to see the explosive Oregon Ducks have a shot at the title), but that is an entirely new blog post.
This year will be the first year that MikesPickz will officially predict every game of the Bowl Season, without further ado, here are this year's picks:
(The team in bold is my pick, [bracket is confidence points])
Current Record: 19-15
Last update: 1/7

Saturday, December 19th
New Mexico Bowl: Fresno State [34] vs. Wyoming (Loss, 35-28, 0/34 points)
St. Petersburg Bowl: UCF vs. Rutgers [13] ( Win, 45-24, 13/47 points)
Sunday, December 20th
New Orleans Bowl: Mid Tenn vs. Southern Miss [23] (Loss, 42-32, 13/70 points)
Tuesday, December 22nd
Las Vegas Bowl: BYU vs. Oregon State [10] (Loss, 44-20, 13/80 points)
Wednesday, December 23rd
Poinsettia Bowl: Cal vs. Utah [5] (Win, 37-27, 18/85 points)

Thursday, December 24th
Hawaii Bowl: Nevada [30] vs. SMU (Loss, 45-10, 18/115 points)

Saturday, December 26th
Little Ceasers Bowl: Ohio [25] vs. Marshall (Loss, 21-17, 18/140)
Car Care Bowl: Pittsburgh [28] vs. North Carolina (Win, 19-17, 46/168)
Emerald Bowl: USC [29] vs. Boston College (Win, 24-13, 75/197)
Sunday, December 27th
Music City Bowl: Kentucky vs. Clemson [27] (Win, 21-13, 102/224)

Monday, December 28th
Independence Bowl: Georgia [20] vs. Texas A&M (Win, 44-20, 122/244)

Tuesday, December 29th
Eagle Bank Bowl: UCLA vs. Temple [1] (Loss, 30-21, 122/245)
Champs Sports Bowl: Miami [16] vs. Wisconsin (Loss, 20-14, 122/261)

Wednesday, December 30th
Humanitarian Bowl: Bowling Green [12] vs. Idaho (Loss, 43-42, 122/273)
Holiday Bowl: Arizona vs. Nebraska [8] ( Win, 33-0, 130/281)

Thursday, December 31st
Armed Forces Bowl: Air Force vs. Houston [31] (Loss, 47-20, 130/312)
Sun Bowl: Stanford [7] vs. Oklahoma (Loss, 31-27, 130/319)
Texas Bowl: Navy vs. Missouri [11] (Loss, 35-13, 130/330)
Insight Bowl: Iowa State vs. Minnesota [15] (Loss, 14-13, 130/345)
Peach Bowl: Tennessee vs. Virginia Tech [22] (Win, 37-14, 152/367)

Friday, January 1st
Outback Bowl: Auburn [24] vs. Northwestern (Win, 38-35, 176/391)
Capital One Bowl: LSU vs. Penn State [9] (Win, 19-17, 185/400)
Gator Bowl: Florida State vs. West Virginia [19] (Loss, 33-21, 185/419)
Rose Bowl: Oregon [14] vs. Ohio State (Loss, 26-17, 185/433)
Sugar Bowl: Florida [21] vs. Cincinnati (Win, 51-24, 206/454)

Saturday, January 2nd
International Bowl: N. Illinois vs. South Florida [33] (Win, 27-3, 239/487)
Cotton Bowl: Oklahoma State [6] vs. Ole Miss (Loss, 21-7, 239/493)
PapaJohns Bowl: South Carolina vs. UConn [3] (Win, 20-7, 242/496)
Liberty Bowl: Arkansas [18] vs. ECU (Win, 20-17, 260/514)
Alamo Bowl: Texas Tech [26] vs. Michigan State (Win, 41-31, 286/540)

Monday, January 4th
Fiesta Bowl: TCU vs. Boise State [2] (Win, 17-10, 288/542)

Tuesday, January 5th
Orange Bowl: Iowa [4] vs. Georgia Tech( Win, 24-14, 292/546)

Wednesday, January 6th
GMAC Bowl: C. Michigan [32] vs. Troy (Win, 44-41, 324/578)

Thursday, January 7th
BCS Championship: Alabama [17] vs. Texas (Win, 37-21, 341/595)
Final Score Prediction: Alabama 24 – Texas 13